Open Studio is this coming weekend. As well as my own work I shall be showcasing the artwork of 3 other artists as well as handmade beaded jewellery from BellesBeadJewellery
Basement Studio, 61 Warwick Way, SW1V 1QR
Friday 5 – 9pm 
Saturday 11 – 7pm
Please follow the link below to register for free tickets to this exciting art fair  coming up at the end of October!
Find me on Stands A1 -A4. 
I finally have the opportunity to open up my studio to the public again. I am exhibiting new work created in the lockdowns alongside work made by the artists that I teach in the studio. 
Friday 8th October 5- -9pm
Saturday 9th October 11 – 7pm
Sunday 10th October 12 – 5pm. 
Basement Studio, 61 Warwick Way, Pimlico. SW1V 1QR
This is a new series of 8 small prints. They are cyanotypes with monoprint. They are more monotone than the previous sets, with a yellow glow signalling the hope of the coming season and the lightening of Covid restrictions. Click here to see the full set.
During the lockdown sessions I started a concertina sketchbook inspired by my walks. It's nearly finished and has made me want to start another! Click here see it. 
Another week rolls by and lockdown continues. This new set of prints is made using yet more plants collected during the weekly walks.  The complex surfaces are built up with many layers of ink to create the organic, fluid, abstracted imagery. It is a series of 10 multi layered monoprints, each one is 20×20 cm. The colours remain bright and optimistic. They are £80 unframed each.  Click here to see the full set.
This week sees the creation of  a new set of prints focusing on seeds collected during the Lockdown walks. It is a series of 8 20×20 cm multi layered monoprints. The colours remain bright and optimistic. They are £80 unframed each.  Click here to see the full set.
Lockdown 3 has come round……. I have created a new series of vibrant prints to create some optimism and hope. They are created with leaves and seeds which I collected during my Autumn Walks in the last lockdown. The intense colours are drawn from my wanting to brighten up the short, grey filled days and to focus on the light at the end of the tunnel. See the full set here.
During this 2nd lockdown I have been drawing from my Autumn walks in the park to create something a bit different. Oil pastel drawings depict the changing colours of this beautiful season uplifting my spirits. See the Mixed Media page for more .
More new work has been added to the printmaking section, see the Lockdown page for all the work created since March. Most of the work is of a 'domestic' scale due to much of it being started at home. 
I have been continuing my series of monoprints and have made some mini prints, image size 10 x 10cm. Have a look under the miniprint section to see the full set.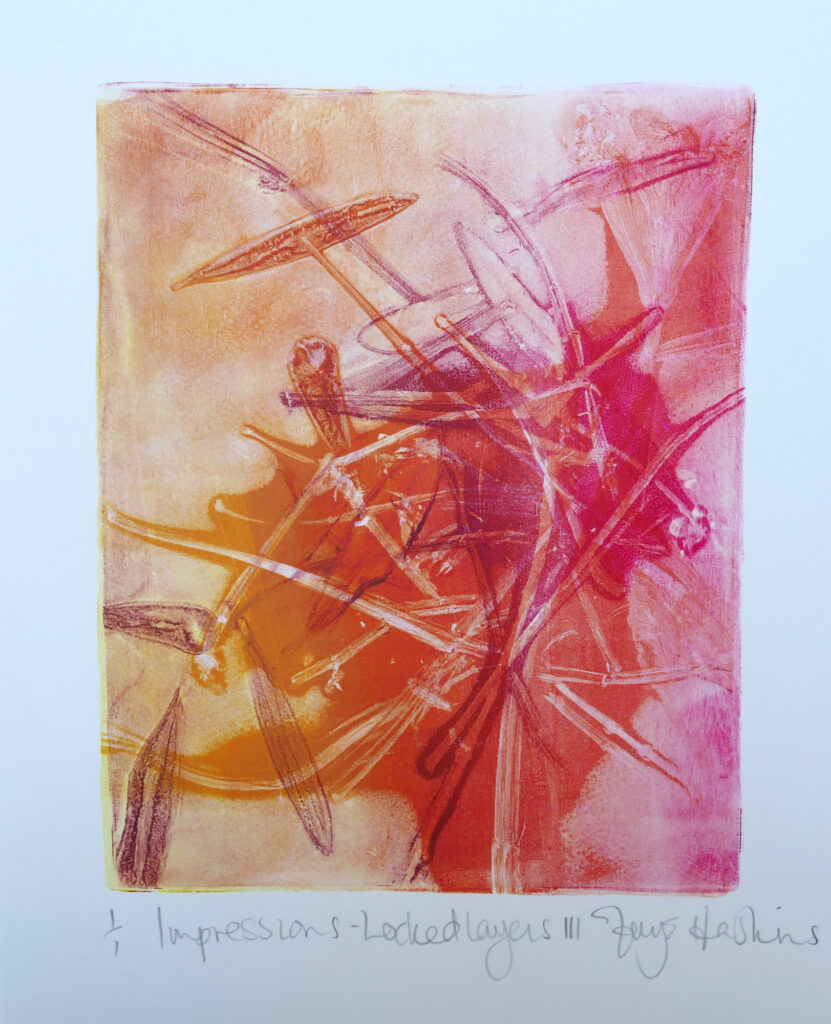 New Prints available to view on my Impressions page under printmaking.
Lockdown Art
These next 2 series of prints follow the same theme as the previous ones, which is to capture the precious and delicate life of the petals of dying flowers and to imortalise them, giving them another life. Although visually they are developing due to the process I use, the 2 series are very different. One is again heavily layered and more challenging to view, the other is again lighter and more ethereal than the first set, but unlike the original ones, these are layered and more abstracted. The colour use is more complex too. 
New Prints available to view on my Impressions page under printmaking.
Lockdown Art
The first set of 3, new prints, created during lockdown are dark, heavy and weighted down, with the forms becoming very abstracted. There are many layers, both obliterating and enhancing different elements. Layers of monoprint are overprinted on a base of cyanotype, both created from remnants of flowers that are delivered to me twice a month. Living in such an urban environment and unable to get my usual fix of the natural world, these flowers bring a small part of nature back into my life. As the petals start to fall and the flowers wilt, I give them another lease of life. I'm trying to rescue what is left of their precious existence, reflecting the experiences of so many during this current pandemic. The next series of 10  monoprints continue with the process of capturing the cycle of  the dying plants and immortalising them on paper. They are delicate, ethereal and dream like. They are trying hold onto the fragile life that is left.
I am very excited to be a part of setting up this exciting group, Arts Trail UK, who have launched their first virtual exhibtion.  Click here to enter and have a look at our fantastic selection of arts and crafts. 20 – 50% of all sales go to Age UK. Be sure to like our facebook and Instagram pages too.